Researcher of the Month: June 2021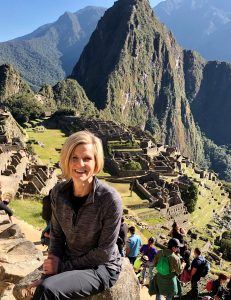 Tanya Heikkila is the Professor and Associate Dean for Faculty Affairs at the University of Colorado Denver's School of Public Affairs. She researches and teaches policy processes and environmental governance with a focus on conflict and collaboration in the context of interstate watersheds, large-scale ecosystem restoration programs, and unconventional oil and gas development.
Tanya has published numerous articles and books on these topics and has participated in several interdisciplinary research and education projects. She enjoys collaborating with faculty and students, especially through the Workshop in Policy Process Research at CU Denver, which she co-directs. She is also a steadfast supporter of the IGRI. Most recently, she and her co-author, Christopher M. Weible, used a semi-automated IG-coding technique to assess the policy design of California's oil and gas policy landscape. If you missed their presentation, you can catch it here.

Tanya enjoys hiking and skiing in the Rocky Mountains, watching the plants in her garden bloom, and traveling to beautiful locales with her family.
May 2021
Claudio Radaelli is Professor of Comparative Public Policy at the European University Institute's School of Transnational Governance (Florence). He is also a long-time IGRI affiliate. Professor Radaelli's research interests include the policy process of the European Union, the effects of EU policies on the Member States, the theory of policy learning, and the roles and usages of expertise and ideas in public policy and administration. As for specific policies, most of his work is on regulatory design and rule-making. He has trained policy-makers from more than 30 countries on regulatory reform and regulatory analysis tools.
Most recently, he and his co-authors, Claire Dunlop, Jonathan Kamkhaji, and Gaia Taffoni, have been coupling the IGT with the Narrative Policy Framework (NPF) to analyze consultation procedures in the European Commission, Finland, Ireland, and Malta. The whole ERC project Protego led by Professor Radaelli (with Claire Dunlop as Co-PI) is based on an IGT approach to measure the design of different rule-making tools in EU countries.
If you haven't seen his presentation on this topic, you can find a video recording here.
Along with Guy Peters and other world-class political scientists, Professor Radaelli is the editor of the new International Review of Public Policy journal which "advances knowledge about public policy in different sectors, countries, and regions of the world." He is a founding member of Science for Democracy. Professor Radaelli is passionate about nonviolence and has contributed to several campaigns for the right to know and the right to science.
In his spare time, Professor Radaelli is a heavy consumer of films and, even more so, music. Curiously for someone born in the city of the Teatro alla Scala, he does not like opera but indulges in prog, psychedelic, some strands of metal, electronic and ethnic music. He enjoys swimming and long walks.